Before Shore. After Shore.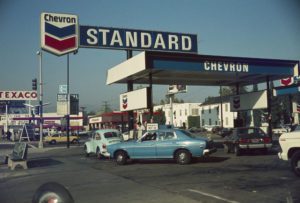 1975-2016
Photography
30 x 40 cm.
1 of 1
Framed
€330
Chevron station at La Brea LA. From 35mm transparency dated to circa 1975. Anonymous German photographer. Scanned on Hasselblad Flextight X1. Retouching and restoration kept to a minimum.
About the Artist
Steven Nestor is a graduate in photography from the Dublin Institute of Technology. He currently works at the Institute of Art, Design & Technology, where he is also undertaking a two-year masters in Art Research Collaboration. A practitioner and photographer himself, he is also a collector of anonymous photographic work, mainly from Germany. Nestor has had his work displayed in Arles, Athens, Dublin, Kassel & London.